Bayer M3CS
Free Worldwide Shipping, taxes included.
This limited edition Bayer M3CS timepiece showcases the excellence of German engineering. Each individual watch created with a vision to remind you of your own engineering masterpiece.
Our precision craftsmanship derives the highest quality timepieces, created from deep surface hardened stainless steel giving the piece a polished scratch resistant finish.
• Water Resistant - 30 M / 3 ATM water resistance.
• Scratch Proof - Sapphire scratch proof glass.
• Butterfly Clasp - Custom stainless steel butterfly clasp.
• Adjustment Tool - To easily add and remove links.
Specification
Case: 43mm / 12mm
Strap: 18-22cm / 20mm
Material: Stainless Steel
Movement: Japanese Quartz
Water Resistance: 30M / 3 ATM

The length of the strap can be resized using the adjustment tool included in the box.
Movement
Our movements are assembled in Japan using only the highest-grade components, enabling us to ensure exceptional quality.
The production of high-quality movements is made possible by high-speed automatic assembly lines which were developed in-house through the extensive knowledge and experience of our engineers.

Material
The case and band are made from surface hardened and polished stainless steel giving the watch a flawless finish. Sapphire scratch resistant glass is used to protect the embossed metal caliper detail of each exquisite timepiece.
This also allows for the 30M / 3 ATM waterproof rating, meaning the watch can withstand splashes and other occasional contact with water such as rain.
How long is the shipping time?
US and UK orders will be shipped via USPS & Royal Mail and International orders will be delivered via the relevant regional postal service.

Average transit times to the United States: 3 - 7 days.
Average transit times to the United Kingdom: 3 - 7 days.
Average transit times for International: 10 - 30 days (depending on country).
For any other questions, contact us via Live Chat!
Live Chat is available 24 hours a day and is on our Contact Us page.
Customer Reviews
Hidden gem from Facebook
Facebook normally only advertises **** that never arrives or is marked up ridicously, however this, this is a gem. The watch I got was the M3CS and its just stunning, the detail below the glass is crazy. I had to remove several links prior to putting it on my wrist, but it came with an adjustment tool to do so. Anyone looking at buying one I would absolutely recommend especially for the price I paid.
Don't get scammed
I got scammed earlier as I got a knock off from a different website. Very cheap quality watch. I reached out to support of RS Chrono after I saw their ad and they explained that there are a lot of knock offs being sold online on different websites and I should return that product. So I returned that watch and ordered from RS Chrono and I have to say that these watches are seriously well made and of premium quality, the glass and the movement is way way better than what I bought earlier. The band is of superiour quality as well. I am very happy with my watch. Thank you!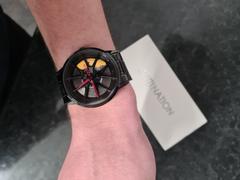 Hi Frankie, Thank you so much for your positive review and bringing to our attention the number of false sellers online advertising similar watches but shipping a watch with a 2D printed picture under the glass. We are trying our best to remove these scam sites entirely but it is an extremely lengthily and tedious process to do so. Kind regards, RSChrono